John C. Dexter Promoted to General Manager
Candice G. Oliver Promoted to Director of Sales & Marketing
Atlanta, GA, April 17, 2023 – EnvisionWare, a leading provider of self-service and library efficiency solutions, announced today the promotion of two employees to senior leadership positions. The appointments are in support of the company's strategic initiatives to accelerate growth and drive quality and innovation across the organization.
John C. Dexter promoted to the role of General Manager
John brings extensive leadership and technical experience in the library industry to this role, most recently serving as EnvisionWare's Director of Sales and Marketing. John has been with EnvisionWare for over six years. During his tenure with EnvisionWare, he has developed a deep understanding of the business, established solid relationships with customers and vendor partners, and has a proven track record of delivering results. As General Manager, John will oversee all aspects of the company's operations and work closely with the leadership team to drive growth and innovation.
Prior to EnvisionWare, John was President and Chief Operating Officer at Scannx, a vendor partner of EnvisionWare that collaborated on the development of EnvisionWare's Library Document Station.
"Since joining EnvisionWare, I've worked closely with teams throughout the company and have been impressed with their integrity and drive to provide the best solutions to our customers and their patrons," said Dexter. "I'm looking forward to collaborating with our customers and partners to help libraries offer technology that truly adds value for their communities."
Candice G. Oliver promoted to the role of Director of Sales and Marketing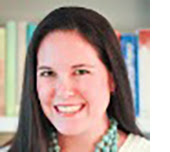 Candice joined EnvisionWare in 2017, following a distinguished career as a librarian that included positions as Director of Library Services, Regional Branch Administrator, and Systems Librarian for a large consortium. While at EnvisionWare, Candice has held sales and management roles overseeing the Implementation and Proposal and Contracts teams. With twenty years of experience in libraries and sales, Candice has a deep understanding of the industry and a proven ability to drive revenue growth.
In addition to having hands-on experience in libraries, Candice has held positions in the library industry, serving as Director of Library Development for Innovative Interfaces, as well as holding account management, training, and product management roles at Sirsi and Bibliotheca.
"I'm honored to take the role of Director of Sales and Marketing," said Oliver. "Over the years, I have seen firsthand the impact of our solutions for patrons and staff. I look forward to the opportunity to continue expanding our offerings to public libraries."
About EnvisionWare
EnvisionWare is a leading provider of self-service and library-efficiency solutions. Today, over ten thousand libraries use EnvisionWare products to enrich the service offerings of their libraries and to empower their customers to do more for themselves. EnvisionWare offers twenty-two systems, including our Reservation Service, PC Reservation® computer management, LPT:One™ print management, OneStop™ for self-service circulation, RFID/AMH, a LibCabinet and Holds Locker, the 24-Hour Library™ and the Tablet Station powered by Hublet. For more information about EnvisionWare, visit www.envisionware.com.